Uganda can help the world to solve the twin problems of climate change and food insecurity – IUEA Vice chancellor.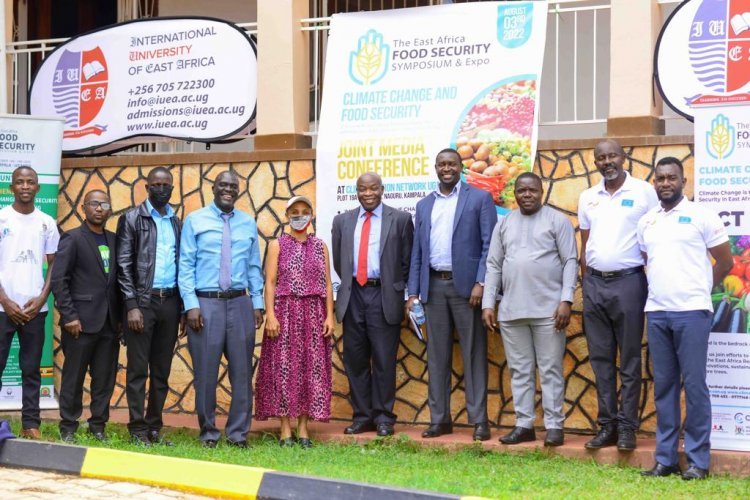 The team organizing the Symposium
Prof. Emeka Akaezuwa the Vice chancellor of International University of East Africa (IUEA) said that if all stake holders join hands to these causes and come up with concrete action plans, Uganda will be able to solve both food insecurity and climate change.
The UN estimates around 9million people who die of hunger and hunger related causes worldwide every year with poor nutrition alone constituting to 5 million deaths.
According to the recent studies, 37% of Ugandan households went without a meal in 2021 and the solution has gotten worse in 2022 as observed with the current famine and floods in Northern and Eastern Uganda.
"The University is committed to doing its part to solve these problems through the practicalization of innovative solution that can help reduce climate change and food insecurity" Emeka highlighted.
Emeka was addressing a joint press briefing at the Christian Ecological Organization head offices in Kampala at the launch of the East Africa Food Security symposium and Expo slated for October 2022.
The Climate Change Action East Africa (CCAEA) together with several partners including the Christian Ecological Organization (ECO), Climate Action Network Uganda (CAN-U) , Afrolinks International Frontiers Ltd and ICEA have organized this pioneer symposium and expo on food security on the 14th – 16thOctober at the University premises.
"Solving food insecurity is a major global challenge that requires collaboration across sectors and if its left un- solved it could lead to increased deaths and major social upheavals" Emeka articulated.
According to the organizers, this symposium will provide an interaction opportunity among stakeholders involved in the food chain systems and also an arena for open discussion and knowledge sharing in the aspects of Climate Change and Food insecurity.
Isaac Kabongo the ED Ecologiacal Christian Org.
Isaac Kabongo the Executive director ECO noted that if African countries don't prioritize the integration of agro-ecology into the food production system, food insecurity coupled with Climate Change is likely to escalade.
"Agro-ecology is one of the proven approaches towards restoring food sovereignty for the small holder farmers in Uganda and Africa at large and I urge its adoption country wide" Kabongo added.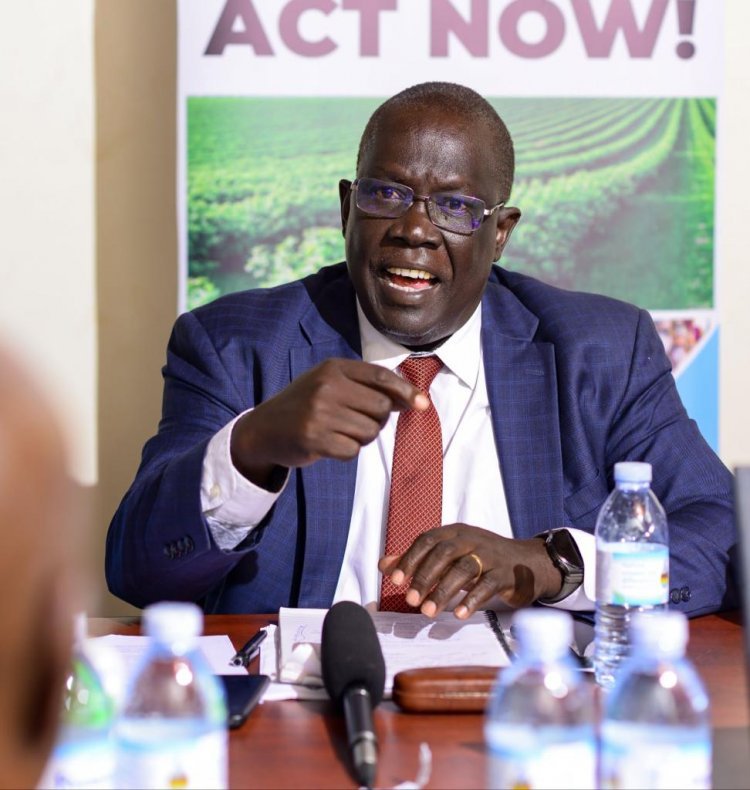 Dr. Tom Okurut the ED Climate change action East Africa
Dr. Tom Okurut the Executive Director Climate change Action East Africa highlighted that currently people plant trees that will benefit them during their lifetime instead of conserving the environment.
"The tree plant is not equal to the tree supply… one thing we are introducing is a "One Acre Model" aClimate responsive tree planting that demonstrates that you can benefit economically by planting both food and trees" Okurut added.
Derrick Mawanda of Climate Change East Africa noted that throughout the region, there is increased ecosystem degradation which is reducing productivity of small holder agriculture and this has caused severe hunger and famine.
The consortium called upon Ugandans in different regions to attend this symposium that is intended to reduce hunger related deaths in the country.