'Embrace ideology and prosperity' - Museveni to APRM Youth
While addressing the the 3rd African Peer Review Mechanism (APRM) Youth Symposium at Speke resort Munyonyo in Kampala on Tuesday, President Yoweri Museveni urged youth to embrace ideology and prosperity if they are to take the continent to a unifying level.
According to the President through prosperity for all, every youth should be able to produce goods and services to sell to the population hence big market integration for development.
"Poverty is one of Africa's problem and this is caused by lack of prosperity because some youth developed a "dependency syndrome" and they think the continent can become well off by only the help of donors" Museveni added.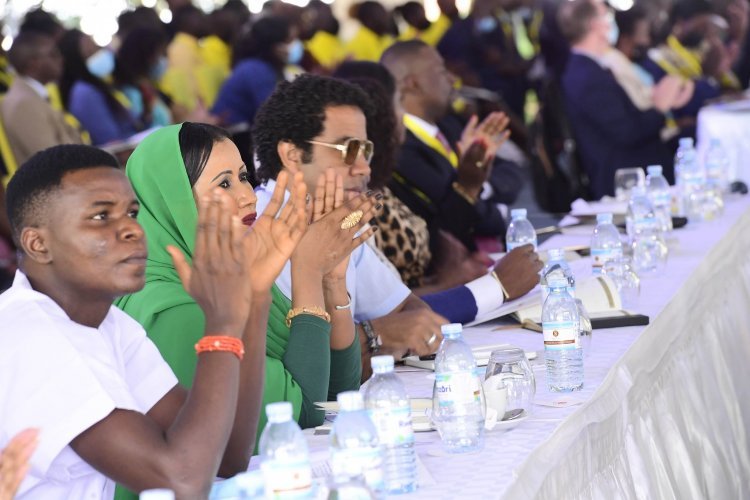 The President in his remarks to the youth also hinted on the need to create strategic security in Africa as the continent has now become a center of chaos a major factor that hinders development.
"Africa needs to secure herself against all threats and its the youth that should organize, unite and defend the it" Museveni emphasized.
For the sake of ideology, Museveni articulated that this can well be achieved by youth being patriotic, pan-Africanists, embracing change and also being democratic.
This year's APRM that also commemorated the 20 years of the African Union attracted a number of youth across the continent and it was held under the theme "Repositioning the Youth Agenda for Transformative Continent"
Robinah Nabbanja the country's Prime Minister who also attended the symposium said that covid19 caused higher numbers of unemployment among the youth and this can be solved by all governments across the continent to work hand in hand with private sector and development partners to address this problem.
Nabbanja also emphasized that education especially amongst the youth is key because a population that is educated not only provides the needed labour but also an atmosphere that helps to create jobs.
"I call upon the youth to embrace and establish enterprises that can benefit them selves" the Kakumiro MP urged youth in relation to engaging in government programs like the youth livelihood program that are aimed at improving lives of people outside the money economy.
The first APRM was held in Chad central Africa in 2019, the second was held in Kenya and the third here in Uganda and this time to set an agenda on how to implement the 1 million next initiative and how it can reach 300million youth across the continent.
The event was graced by dignitaries from the African Union, European Union, Uganda Ministers and youth delegates from all over Africa.