Minister Muruli Mukasa threatens to resign if Government doesn't handle health workers' salaries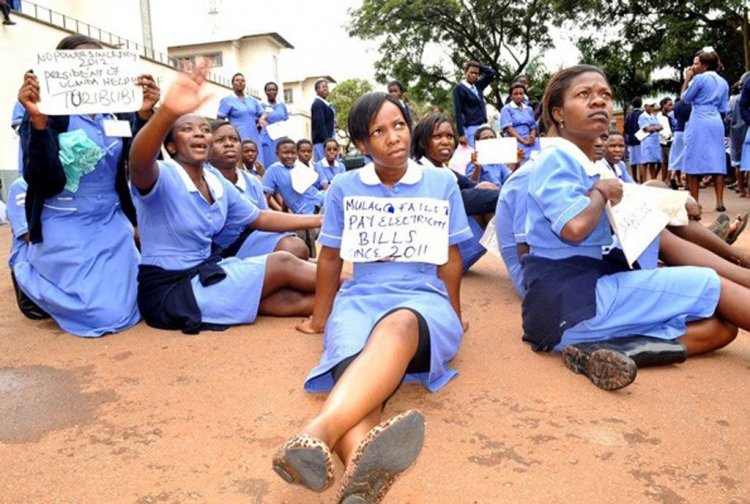 Courtesy photo
While issuing a statement by government in response to the industrial action by Allied professional health workers, nurses and midwives in Kampala on Friday, the Minister for Public Service and also Ag. Minister for Justice and Constitutional Affairs Wilson Muruli Mukasa said that he will decently resign if issues of health workers are not catered for in the coming financial year 2022/23.
According to Muruli, after several consultations with the office of the Prime Minister, Permanent Secretary, the Health Ministry, Finance Ministry and also the Gender Ministry, the pay enhancement for all health workers has been budgeted for in the coming financial year 2022/23.
"In this regard, government is calling upon all allied health workers, nurses and midwives to report on duty by May 30th without fail or else resign accordingly" Muruli added.
On May 16th, the industrial action of the health workers mainly allied professional workers, nurses and midwives commenced which brought a standstill to nearly all health care services in government hospitals country wide.
These health workers accuse government of over working them during the covid19 pandemic promising them extra pay cheques which they have never received todate and also the poor working conditions many experienced even before the pandemic.
Muruli also said that communication of the revised pay structures will follow the statutory procedures through the issuance of Annual salary Circular Standing Instruction to the Public Service alongside the budget for financial year 2022/23 and called upon health workers to be patient as this will not take too long as the process is on-going.
"There is a lot of goodwill in government and among other stakeholders for enhancement of Health workers and we all agree that indeed they deserve a pay enhancement in line with that agreed upon in the signed Comprehensive Bargaining Agreement " Muruliemphasized.
Hospital directors and Chief Administrative Officers were also directed to take stock of cadres and also declare vacant positions for all that will fail to report on duty by May 30th 2022.
In her speech, Betty Amongi the Minister of Gender, Labour and social Development said that they are currently receiving threatening complaints from health workers who voluntarily decided to remain at work and this is really improper as everyone's view should be respected.
"I want to appeal to the Unions to reconsider their views and go back to work so that both sides fulfill the principle of engaging, negotiating and agreeing which will help achieve together in this hard economic situation" Among added.
The health workers industrial action came in shortly after the Uganda Professional Science Teachers Union had just agreed with the Education Ministry to return to work.