Uganda to host Commonwealth Speakers Conference in 2024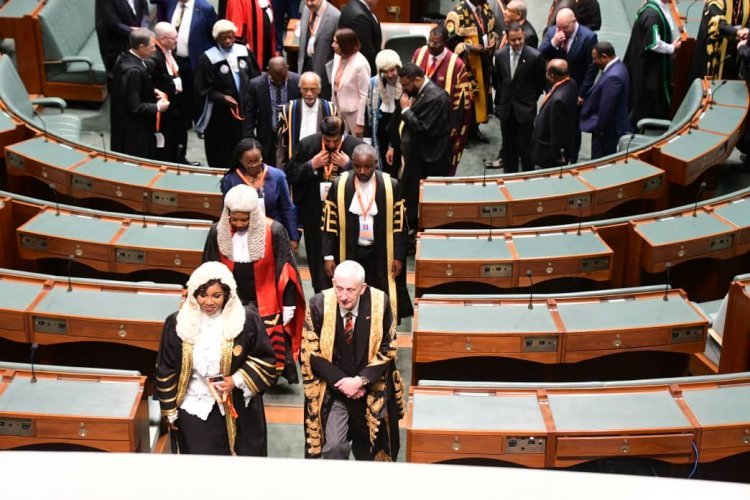 Uganda's Deputy Speaker of Parliament, other speakers and presiding officers .
AUSTRALIA — Uganda has been selected to host the 27th Speakers and Presiding Officers Conference of the Commonwealth (CSPOC) due from 3rd to 6th January, 2024.
Uganda was confirmed as the next year's conference host at the ongoing CSPOC in Canberra, Australia.
On Wednesday, January 2023, Deputy Speaker of the Ugandan Parliament, Thomas Tayebwa said Uganda is all ready for the Commonwealth big dance.
"Parliament of Uganda has been chosen to host the next Commonwealth Speakers and Presiding Officers' Conference, a very important conference which is part of the Commonwealth Parliamentary Association," Tayebwa said.
He said nearly all Parliamentary Speakers from Common wealth jurisdictions are excited about visiting Uganda next year.
Tayebwa described the opportunity to host the conference as a vote of confidence within the country, Uganda people and the government.
"The hospitality that we have as a country is what everyone has been telling me about. They are looking forward to visiting our beautiful country and most of them are promising to come with their families," Tayebwa, who was elected Vice Chairperson of the Commonwealth Speakers and Presiding Officers Conference said.
The country hopes to use the event to market some of its tourism sites.
"This will be another opportunity to showcase our beautiful country to the World," He noted.
Commonwealth speakers endorse Uganda
Several Speakers of Parliaments have confirmed attending, including Sir Lindsay Hoyle, House of Commons, UK, Milton Dick Parliament of Australia, Adrian Rurawhe of New Zealand and Mahinda Yapa of Sri Lanka.
"I'm happy that our next host is the East African brother Uganda and we as the East African countries and members of the Commonwealth; Kenya, Tanzania and Rwanda will be supporting Uganda in everyway possible to ensure that the conference they will host in 2024 is organised as the one happening now in Canberra," Moses Wetangula, Speaker of the National Assembly of Kenya said.
"I'm looking forward to January 2024 as CSPOC is being held in Uganda. Uganda is a beautiful country which we want to develop more relationships with Canada, but most importantly, I'm looking forward to the natural resources that Uganda has," said Anthony Rota, the Canadian speaker of the House of Commons.
Milton Dick, the Federal Member for Oxley and Speaker of the House of Representatives in Australia said he is very much looking forward to visiting Uganda next year.
"I know we will be received warmly and I'm looking forward to learning more about the beautiful country of Uganda and its people," said speaker Milton Dick who is also the chairperson of the 26th CSPOC conference.
Sir Lindsay Hoyle, the Speaker of the House of Commons of the United Kingdom said he was extremely excited about a chance to visit Uganda next year.
"I'm looking forward to next year where we have the privilege and honour to be able to visit Uganda . I look so forward to this CSPOC conference. Thank you so much for the invite. I'm looking forward to seeing Uganda," an elated Sir Lindsay Hoyle said.
Opening conference of 26th ceremony in Australia
Senator Sue Lines, the President of the Senate and Milton Dick, the Speaker of the House of Representatives, welcomed all delegations to the 26th CSPOC at Australian Parliament House.
The annual conference under the theme "Electronic Parliaments – Technology driving the evolving relationships between Parliaments and the people" aims to strengthen parliamentary institutions by bringing together Speakers and Presiding Officers.

Held between 3 and 6 January 2023, more than 120 delegates are attending the conference, including Presiding Officers, parliamentary staff, and observers from 32 Commonwealth Parliaments.
The Presiding Officers represent the breadth of parliamentary systems in the Commonwealth and are from some of the smallest to the largest of nations.
The proceedings begun with a procession of Speakers and Presiding Officers in their ceremonial robes, led by First Nations dancers and singers to the Great Hall.
"As we emerge from the pandemic, we will look to strengthen our relationships and learn from each other to ensure that our debates and parliamentary processes continue to be robust." President Lines said during her opening remarks.
Delegates will attend workshops and plenaries on topics relating to their roles as Presiding Officers, including the pandemic, security, e-parliaments, and the central role Presiding Officers play in leading innovation.
This is the first CSPOC to be held in three years, owing to COVID-19 restrictions.
"The last few years have taught us that things can change very quickly, and the role of parliamentary institutions has been reinforced. It is so important for us to work together and learn from one another," Speaker Milton Dick said.
The first CSPOC was held in Canada in 1969.