Underprivileged women and girls in Rukungiri supported to have stable sources of income
'When women and girls are economically empowered, their decisions in society are valuable and when girls are involved in entrepreneurship activities, chances of forced child marriages, teenage pregnancies and unsafe abortions are reduced'
A teenage girl during a basket weaving training in Rukungiri
In September 2021, Fabs with support from Umano launched a project aimed at economically empowering women and girls as a critical element of inclusive sustainable development.
The project is currently being implemented in Rukungiri District, South Western Uganda.
Fabs tells this news site that the purpose of this out reach is to equip rural women and girls with skills and knowledge that can give them a sustainable source of income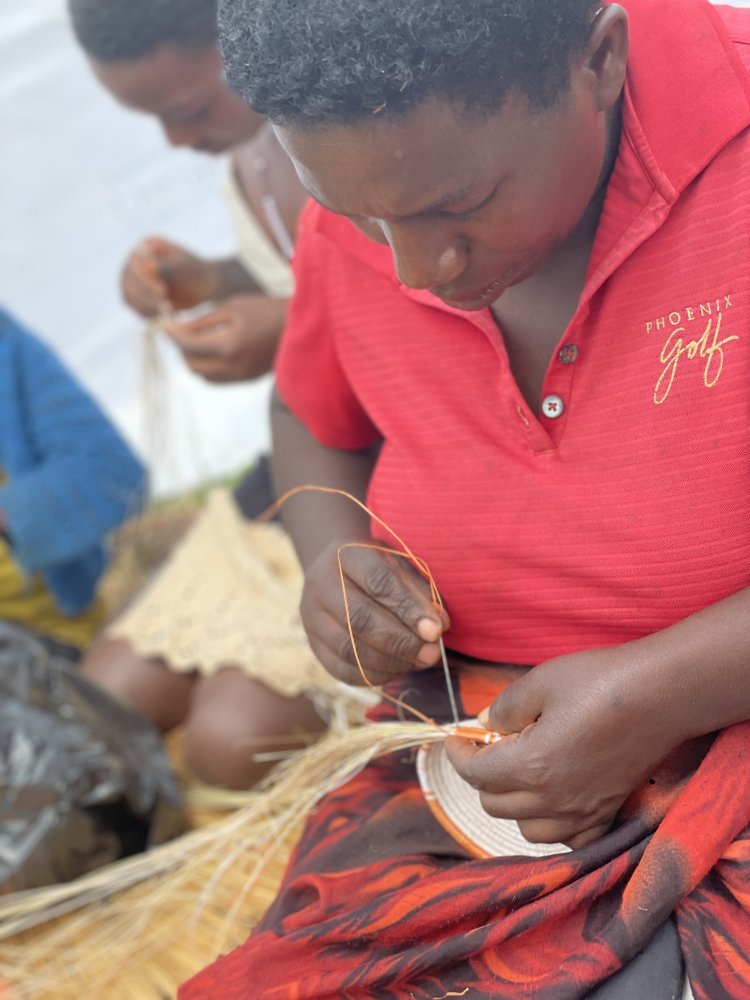 A beneficiary weaves a basket
'Our target beneficiaries are underprivileged girls and women , those we have identified are being trained and equipped with entrepreneurship skills and knowledge so that they can sustainably cater for their families basic needs'. Nabaasa, Fabs Executive Director told our reporter
Women and girls are the most affected by natural calamities like the Covid19 pandemic that that has seen millions of Ugandans unemployed, Rukungiri is a patriarchal society, where men are often the bread winners at home, women stay home to tend to gardens , cook and take care of children, they hardly have any source of income and their situation was worsened by the lock down, men lost jobs, schools and businesses were closed, teenage girls were idle at home and most ended up being forced into marriages or dealing with unwanted pregnancies, the burden of such pregnancies is always pushed back to the mother, being blamed for her daughter behaviour. Nabaasa added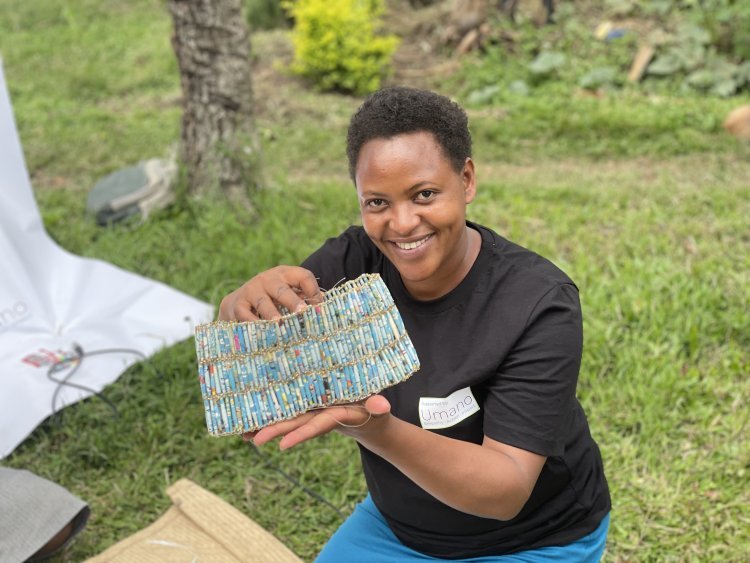 A staff of Fabs shows off a bag made from recycled paper
In 2021, the district reported that from January to July 2021, Rukungiri district registered 41 cases of defilement and 16 out of those were aggravated defilement.
The statistics further indicate that in the same period, the district recorded 1,354 cases of teenage pregnancies. Out of those cases, 800 are below 15.
Nyarushanje as the leading sub county in teenage pregnancy with 231 cases between January and July, followed by Eastern division with 113 teenage pregnancy while Ruhinda has 109.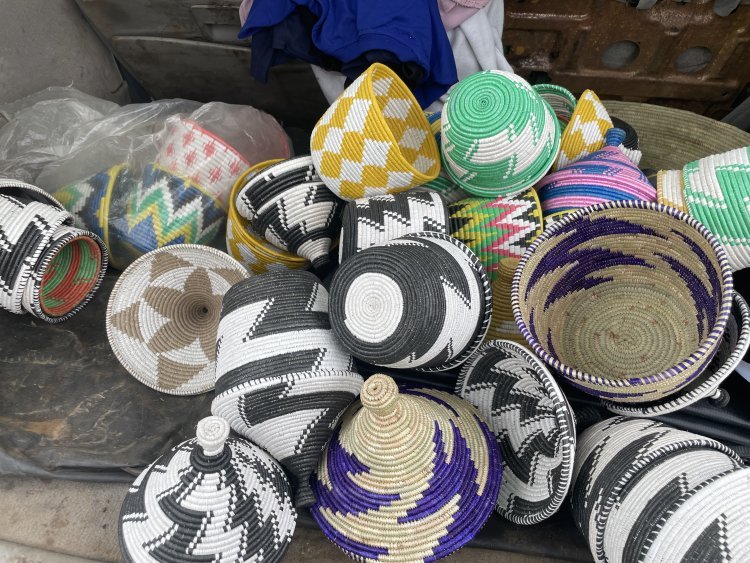 Some of the hand made baskets on sale.
Twesigye Clareh, Fabs Programs manager notes that most of the pregnant girls in this district were forced to marry at an early age by their parents to avoid shame,
'We believe when women and girls are economically empowered, their decisions in society are valuable and when girls out of school are involved in entrepreneurship activities, chances of forced child marriages, teenage pregnancies and unsafe abortions are reduced' Clareh noted
While explaining about the impact of the project, Nabaasa said fabs values animal rights and environmental protection, all their interventions do not in any way harm animals or the environments.
The project focuses on equipping women and girls with skills to make hand made crafts which include mats, pots, baskets, cooking stoves, trays among others.
The products use purely raw materials from the environment or recycled plastics or polythene , this practice is done in a careful manner to avoid over exploitation of natural resources .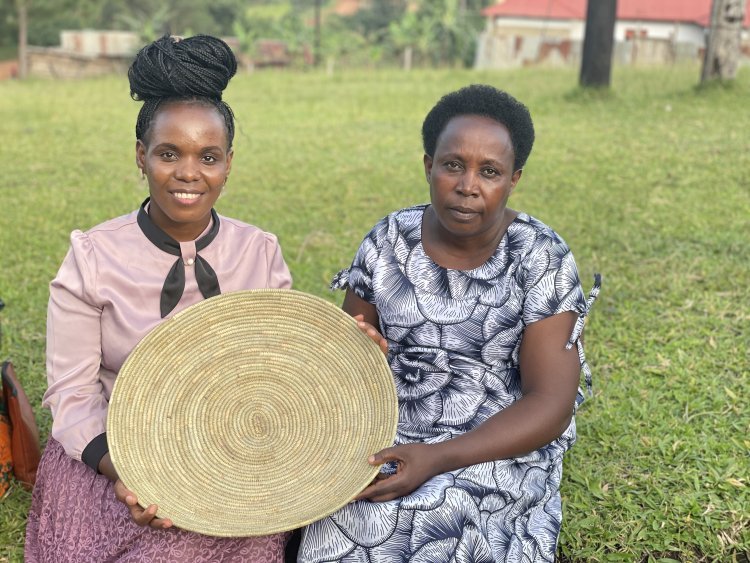 Nabaasa with one of the beneficiaries as she shows off her hand made papyrus tray ( Orugaari)
'Women and girls like our beneficiaries are the most affected when climate change calamities such as flooding, water scarcity, long dry spell occur, that is why we work with them to protect the environment' . Nabaasa noted
Fabs trains and supports the beneficiaries to find market for their products.
Fabs was formed in 2010 but officially registered as an NGO in 2017. The organisation is a young women led , women and youth-serving nonprofit organization that focuses on the empowerment of young people and women with emphasis on Sexual Reproductive Health , Climate Change, Gender Equality, and Economic empowerment.
This is a one year project supported by UMANO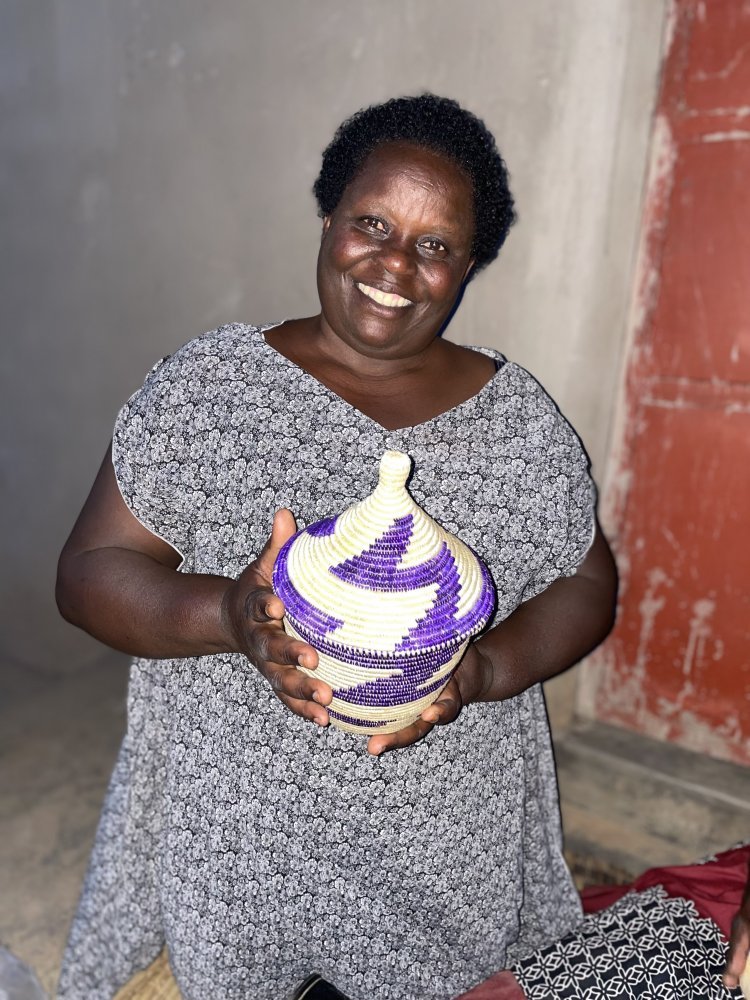 A beneficiary shows off her hand made basket.