Coca Cola unveils new recyclable iconic soda bottle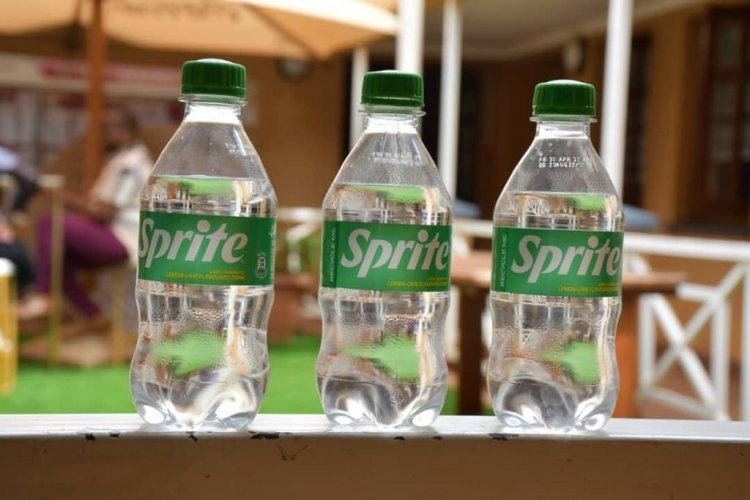 Coca-cola has unveiled a clear PET packaging bottle that is easier to recycle and re-use .
In a move to enhance plastic collection and recycling, Coca-cola on May 11th unveiled a new iconic look of its flavored soft drink as part of its vision of a world without waste.
Since 1959, Coca-cola has been producing spackled lemon-lime Sprite flavor making it the third most consumed soda brand at the world market and this has prompted them to shift its plastic packaging to a clear polyethylene terephthalate (PET) bottle.
According to Isaac Sekasi the marketing director, these fundamental changes mean more Sprite bottles can be collected, recycled and reused in order to fulfill the company's target of collecting and recycling the equivalent of every bottle or can and also to use at least 50% recycled content in all its packaging by 2030.
In the latest statistics by the Kampala Capital City Authority, Kampala the capital generates about 1,500 tons of wastes especially plastics on a daily and 60% of this finds its way into the environment hence causing pollution, causing rampant blockage of drainage channels, soil degradation and also being a threat to animals.
According to the General Manager Coca-cola beverages Melkamu Abebe, Ugandan's can now enjoy a much better taste of Sprite knowing that their bottle can be easily recycled and made into new items.
"The shift from the green to a clear PET is a significant step in driving our sustainability agenda which is the key element of our company and also allowing us to work with partners in the recycling industry to achieve more value for recyclable plastics" Melkamu added.
Sprite soda is produced in over 200 countries worldwide and on the African market, Uganda has become the 5th market to introduce this transparent see through new bottle look after South Africa, Nigeria, Ethiopia and Kenya.
This clear PET bottle after usage can be recycled into a wide range of new products such as pillow and duvet inners and also making new bottles hence making it valuable than the iconic green bottle that had limited uses.
Coca-cola Company also opened up a recycling facility in Nakawa in 2006 with an objective of recycling every product that the company produces and according to the plant manager Samuel Kangave the facility lately collects and recycles 80% of plastics hence a promising step.
In this regard, the company has offered employment opportunities to Ugandans who collect plastic and it has also closely coordinated with the National Environment Management Authority (NEMA) to preserve the environment that is lately damaged by plastics.