'Ignorance has accelerated poverty' - Museveni as he officiated Tarehe sita celebrations
President Museveni also used the Army Day and directed for the full operation of the Boda Boda business, commencing on 7th February 2022 at 18:00 hours.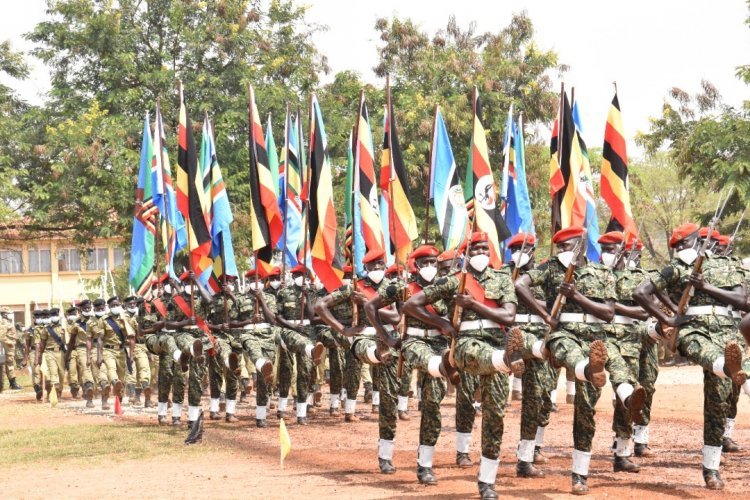 The President of the Republic of Uganda and Commander-In-Chief of the UPDF H.E Gen Yoweri Kaguta Museveni has officiated the occasion marking the 41st Tarehe Sita Anniversary and Defence Forces Week held in Mbale City at Maluku Boma Grounds.
President Museveni who was accompanied by the First daughter Natasha Karugire congratulated fighters of NRA/UPDF upon reaching the 41st Tarehe Sita and Defence Forces Week activities in honor of the past and present heroic achievements.
He urged citizens to use the available peace and infrastructure to generate income by producing on a commercial scale.
"Use the available infrastructure to generate income and embrace the Parish Development Model to eliminate poverty," said the President, adding that wealth comes from work.
He mentioned a verse in the bible that says that God created Man to establish dominion over nature. "By working, we get results and pray that God blesses our work," said President Museveni.
He encouraged citizens to explore the current peace and stability and produce surplus of maize, milk, coffee and sugar instead of shortages.
The President noted that poverty exists because of ignorance which leads to poor land use and agricultural practices like land fragmentation and subsistence farming (farming for home use).
At this point, he called upon Civil servants, especially those who will lead the Parish Development Model to be more active partners in fighting poverty by emulating soldiers serving under Operation Wealth Creation.
President Museveni further warned against improper land utilisation, saying fish farming will replace poor rice growing practices in swamps, and land titles on illegal possessions like road reserves and swamps would be cancelled.
He thanked citizens for the fight against the Covid-19 pandemic, noting that this has been successful because citizens accepted to be agents of change.
President Museveni also used the Army Day and directed for the full operation of the Boda Boda business, commencing on 7th February 2022 at 18:00 hours.
He also announced that in the next six months digital monitors will be installed in all motor vehicles and motor cycles to fight crime.
Speaking at the same function, the Minister of Defence and Veteran Affairs Hon Vincent Bamulangaki Ssempijja commended the President for the social economic transformation of the country.
He thanked all the 41st Tarehe Sita Anniversary mobilizers for supporting all UPDF Civil Military activities in remembrance of the genesis of the Peoples' struggle in the Elgon Region.
Hon Ssempijja noted that with the strategic guidance of the President, UPDF will reach greater heights in the execution of its constitutional mandate.
The Chief of Defence Forces Gen Wilson Mbadi remarked that the country is peaceful and stable from corner to corner save for the isolated cases of terrorism, livestock theft among the small instances for which the Defence Forces have also developed counter measures to address them.
Gen Mbadi noted that the UPDF is ideologically grounded to protect Uganda and engage in regional and international peace missions.
The Chief of Defence Forces reminded invited guests that peace and security are a pre-requisite for the transformation of the country and both play a role in the realisation of the vision 2040.
He thanked Ministries Departments and Agencies and the media for supporting Tarehe Sita activities. Gen Mbadi added that UPDF continues to support regional peace and stability efforts in Somalia, South Sudan, CAR and DRC in the spirit of Pan-Africanism.
The UPDF Chief Political Commissar Maj Gen Henry Matsiko presented a report on the Defence Forces Week/ Tarehe Sita 2022 activities on behalf of the Defence Organising Committe. He noted that symbolic civil military activities in the Elgon Region were conducted by UPDF Political Comissariat, the Engineers Brigade, Medical Services, Civil Military Cooperation, Education Sports and Culture.
He mentioned that a two classroom block was constructed at Mooni Primary School in Mbale city, a Neo-natal ward at Kapchorwa Main Hospital, a foot bridge to connect East and West Budadiri constituencies in Sironko, construction of the late Maama Ziporah Cherop's low-cost house and a classroom block at Kaboole Primary School Namisindwa, were among the many projects implemented by the UPDF engineers.
He thanked UPDF Officers and militants especially technicians and medics for showing solidarity with the people.
He said this was manifested during the free static and mobile health care services that involved free eye and dental care, HIV/AIDS Counseling and Testing, treatment of hernia, goitre, cancer screening and malaria by UPDF medics.
At the same celebrations, President Museveni launched a dummy book titled " UPDF at 50" which contextualizes the revolution journey of transforming the UPDF from 1971.
The function, to commemorate the 41st NRA/UPDF birthday ran under the theme: "Retracing the Peoples' Struggle for Peace and Security for a Modern Uganda."
It was attended by Visiting Military Chiefs and delegations from Bulgaria, Czech Republic, Burundi, Democratic Republic of Congo, Ethiopia, Kenya, Mozambique, Rwanda, South Sudan and Tanzania.
Religious leaders at the function prayed for continued safety against COVID-19, discipline in the Forces, democracy, justice, freedoms, and accountability, among the many needs to a peaceful national transformation.
Uganda Peoples' Defence Forces, Uganda Police Force, Uganda Prison Service and Uganda Wildlife Authority mounted the parade that was commanded by Col Armstrong Ndugga.
The Master of Ceremonies at the Chancellery Maj Gen George Igumba presented a total of Eighty Six (86) medalists; among them 70 UPDF, Police and Prisons officers for the National Independence medal, 09 civilians for Nalubale media and 07 UPDF officers for Luwero Triangle Medal to the President who awarded them the medals. Eight of the civilians were awarded posthumously.
The 41st Tarehe Sita Anniversary celebrations and Defence Forces Week in the Elgon Region was also attended by the NRM First Vice Chairperson Al Hajji Moses Kigongo, former Vice President Hon Kiwanuka Ssekandi, NRM Secretary General Rt Hon Richard Todwong, Third Deputy Prime Minister Hon Lukia Nakadama, Cabinet Ministers, Members of Parliament, Joint Security Commanders and Chiefs, Heads of Diplomatic Missions, Religious leaders, Cultural leaders and area local Council leaders, among others.
The 6th February, every year, commencing 1981, was symbolically designated as the Army's founding Day hence Tarehe Sita.
Mbale City, Mbale , Bududa, Sironko, Bulambuli, Manafwa, Namisindwa, Kapchorwa, Kween and Bukwo districts that is Bugisu and Sebei subregions of Elgon Region, hosted this year's symbolic and rotational Tarehe Sita and Defence Forces Week.