Minister John Mulimba urges Ugandans to take part in Uganda - DRC trade summit & expo .
Government will support Ugandan participants with visa and Airline costs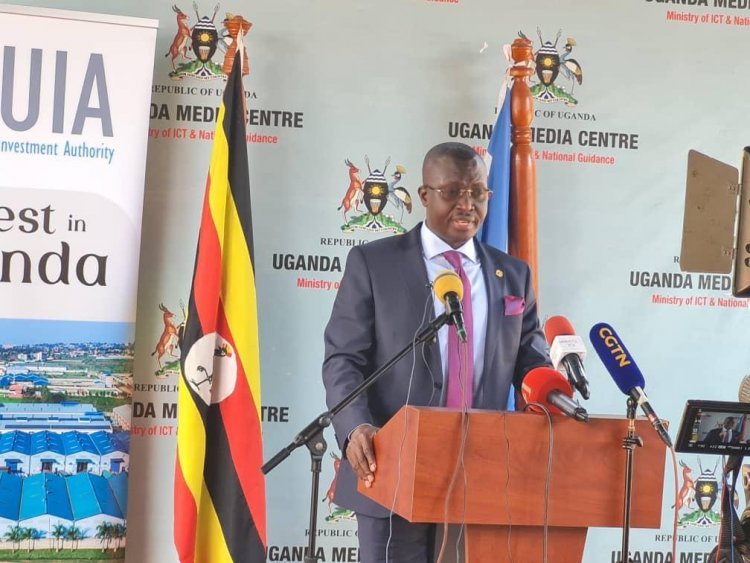 During his speech at the Uganda – DR Congo investment promotion summit and market expo on Monday in Kampala, the Minister of state for regional cooperation John Mulimba said the economic relations of the two countries have continued to grow with a huge potential for expansion and therefore business owners and investors should take advantage of it.
According to Mulimba, the joining of Democratic Republic of Congo into the East African Community early this year automatically provided an opportunity to Ugandan investors to access new markets and opportunities for growth.
"This is the right time for enhancing the business partnership between the two countries because D.R. Congo alone has vast natural resources and a huge market with a potential of over 90million people" Mulimba added.
This first ever Uganda- DR Congo investment, promotion and market access expo that will be held in the Congolese capital Kinshasa is slated for June 27th-29th 2022 and will be held under the theme "Uganda – DRC investment promotion and market access".
Uganda's Ministry of Finance, Planning and Economic development through Uganda Investment Authority (UIA) has organized this summit and expo with the overall objective of promoting and showcasing investment opportunities, creating networks and joint venture partnerships and to also promote products manufactured in Uganda.
According to the January 2022 data from the bank of Uganda, Kampala's exports to D.R. Congo were 74.3 million dollars in the same month up from 29.9 million dollars in December hence representing a 44percent growth.
Through this summit and expo, Uganda also aims at attracting a significant number of Congolese investors to come and set shop as well as other foreign direct investors and also taking advantage of the country's strategic location as it's situated in the heart of the EAC blog.
In her speech, the state minister for investment Evelyn Anite emphasized that the Ugandan's in sectors of manufacturing, commercial agriculture, ICT and those offering services should consider registering quickly with the UIA to be part of this historic event.
"The government will offer free visa's to all those who will participate and will also facilitate part of the ticket dues too for those who will travel with Uganda Airlines" Anite added.
According to Anite, Ugandans shouldn't get worried about insecurity at the summit because the Uganda People's Defense Forces have deployed to provide security .
The State Minister for Trade, Harriet Mutabaazi in her
speech said that this is an opportunity to showcase Ugandan products and that Ugandans should utilize this free market since the two heads of state wiped all barriers.
"We are working as a team to make sure that this huge market is totally exhausted and once we enter the market no one will compete" Mutabaazi added.
The Uganda – DR. Congo investment summit and expo was organized after a highly successful West Nile Investment summit in Nebbi district in April 2022 that accelerated a new era in the economic and commercial relations between the new countries.