Sarah Kenyana crowned Miss Tourism Rwenzori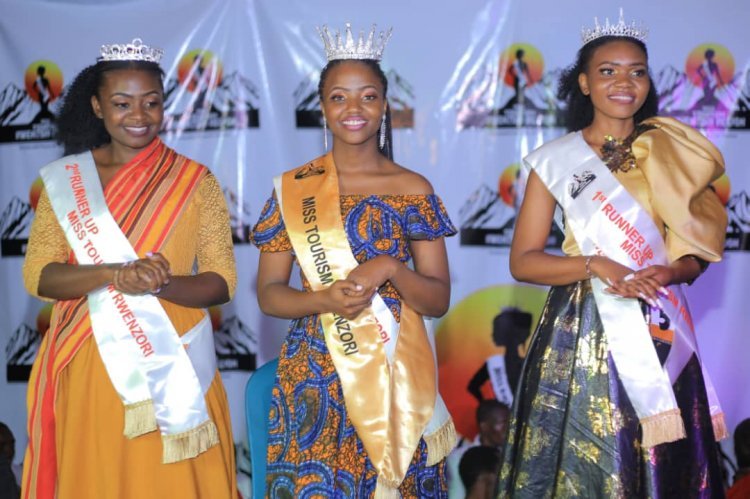 Miss Tourism Rwenzori has once again crowned a beauty queen to Promote tourism in the region.
Sarah Kenyana Rusokeaged 22, a 4th year Law Student at Kampala International University , is the new queen
She was crowned by Hon Kabyanga Godfrey, the State Minister of ICT & Hon Martin Mugarra State Minister of Tourism Wildlife & Antiquities.
The two ministers during the crowning night
Mbambu Joy a 23 Years old student; born of Bundibugyo currently at Uganda Christian University pursuing Oil & Gas Management.
FIRST RUNNER:
Kaija Daphine Kabugho a Kasese born 20 year old Kyambogo University student* pursuing a *Bachelor's Degree in Procurement and Logistics Management*.
Both the Minister's of tourism and ICT pledged support from their respective ministries to the biggest tourism event in Rwenzori sub region.
The crowned winner gets a one year school fees tuition from Kikorongo Safari Lodge c/o Hon Nyombi Thembo while the first and second runners get a smart phone with 6 months data from the same Kikorongo Safari Lodge.
Organised by Brand Ambassadors 256 and proudly sponsored by;

Coca Cola.
Link Bus Services.
Lato Milk.
Kikorongo Safari Lodge.
Bella Wines.
Ngeya FM.
POA TV.
Ekkula Tourism Awards.
Darling.
Miss Tourism Uganda.
Virina Gardens.
Rwenzori Trekking Services.
Shilloh Hotels.
Kasese Tourism Investors Forum.
#RethinkingTourism.
#RethinkingTourism.