Ministry of Health receives medical equipment worth $1M from WHO to fight Ebola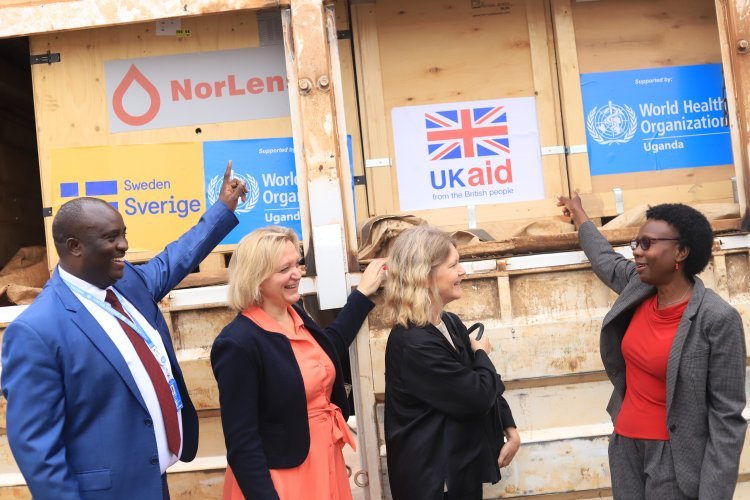 Minister Jane Ruth Aceng, International Humanitarian Partnership including Sweden, United Kingdom and WHO representatives show part of the consignment
The Ministry of Health (MoH) has received a medical equipment consignment from World Health Organisation to continue the fight against the deadly Ebola Virus Disease (EVD).
Minister of Health Dr. Jane Ruth Aceng received the donation supplies worth USD995,000 (plus airfare) to equip the new Ebola Treatment Unit at Mulago Hospital and the Ebola isolation units in Masaka & Jinja.
The donation was made possible through a combined effort of members of the International Humanitarian Partnership including Sweden, United Kingdom and Luxembourg.
The consignment has two powerful generators, tents for construction of the Ebola treatment centers, 8 incinerators
In her statement, Aceng noted that despite the reduction in Ebola cases, the donations come at a time when the country is building resilient systems for the future.
"We must build resilient systems that can withstand any shock that comes in future and having equipment like generators, incinerators and readily available tents goes towards building the resilient systems that we want" Aceng said.
"Uganda must always be prepared because we are very prone to outbreaks. As the world is still handling Covid, for us we've moved ahead and now handling Ebola, Crimean-Congo fever, challenges of hunger in Karamoja and another may come up." She emphasized.
On the current status of Ebola disease in Uganda, Aceng noted that, "We are not out of the woods just yet, we have 32 days countdown and anything can happen within these days, a case may pop up anywhere and we need to be prepared."
On the high mortality rate, malnutrition and food insecurity in the Northern part of Uganda, the minister noted that;
"Since June, we've been having a response in the Karamoja region, Acholi, Westnile and Lango and a lot of work has been done in regards to malnutrition. The Karamoja region has had a severe malaria outbreak and we are happy for the food donations that will address these challenges and other health aspects."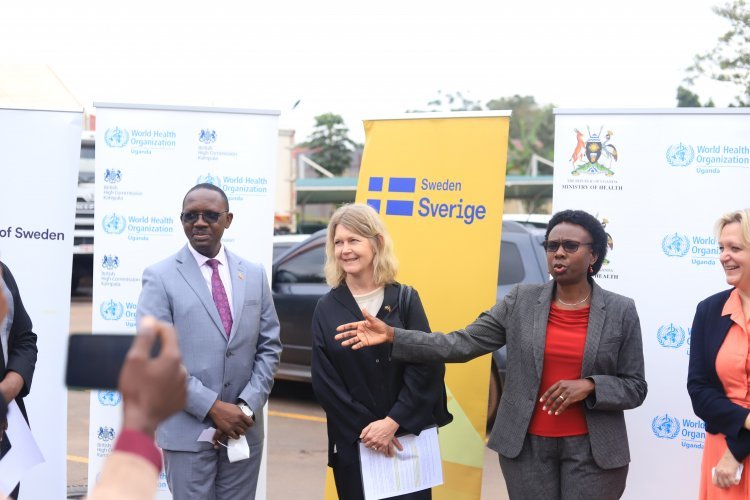 The representative of World Health Organization (WHO) Dr Charles Njuguna mentioned why the donation has been made when Ebola cases have lessened;
"In public health emergencies, we use a no regret approach, we rather error in over resourcing than error in under resourcing. It's not just Ebola, we have other infectious viral homographic fevers that are happening."
"Apart from Ebola, we are also focusing on the drought and food insecurity that has affected the Karamoja region and neighbors. We are handing over a consignment worth shs.4.1Bn (containing malaria, nuitional, drugs and supplies for reproductive health, diagnostic kits) to support people in 20 districts in the Northern region which will help a lot in continuity of health services."